Sport
Learn Kitesurfing in Adelaide & South Australia
Kitesurfing, known as kiteboarding, has taken off within the last ten years in Adelaide and South Australia. As a coastal city, Adelaide has some excellent conditions for kitesurfing, particularly in the summer months when the winds are typically stronger. 
The Best Locations for Kitesurfing in South Australia
There are several popular kitesurfing spots in Adelaide and South Australia, and each offers its own unique experience and conditions. 
West Beach
Located approximately 20 minutes drive West of the Adelaide CBD, West Beach is known for its consistent winds and long sandy beaches. It's an excellent spot for beginners as the waters are generally flat and shallow.
Semaphore
Another popular spot for kitesurfing in Adelaide, Semaphore, is known for its long stretches of flat water and consistent winds. This is a good spot for intermediate and advanced kitesurfers. Semaphore is approximately 30 minutes drive northwest of the Adelaide CBD. 
Aldinga Beach
Situated roughly 50 minutes south-southwest of the CBD, this quieter spot for kitesurfing is known for its clear blue waters and long sandy beaches. The wind can be less consistent here. However, it's an ideal location for beginners and those seeking a more peaceful kitesurfing experience.
Sellicks Beach
A further 5 to 10 minutes south is Sellicks. Suitable for more advanced kitesurfers in Adelaide, it is known for its strong winds and large waves. It's renowned for experienced kitesurfers looking for a challenge.
Largs Bay
Largs Bay is situated around 30 minutes northwest of the Adelaide CBD. It is home to RIDE Kitesurfing and is the perfect beach for beginners who want to learn to kitesurf. 
It's important to note that conditions can vary at each spot depending on the time of year and weather conditions, so it's always a good idea to check the forecast and speak to locals or other kitesurfers to get an idea of the conditions before heading out. Additionally, always make sure to follow safety guidelines and regulations when kitesurfing.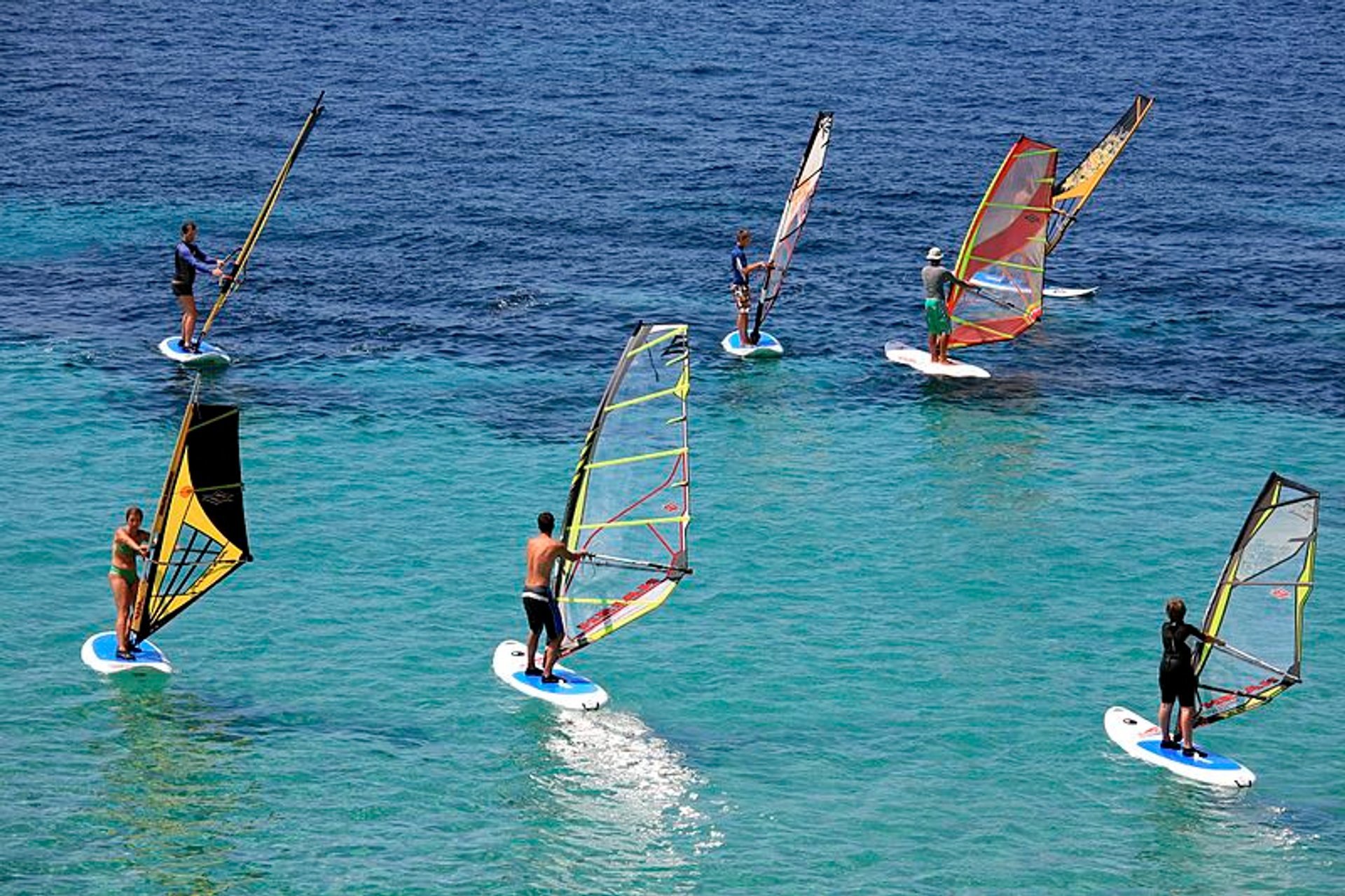 What Kitesurfing Gear Do I Need to Get Started?
To get started with kitesurfing, you will need the following equipment:
Kitesurfing Kite & Board
The kite and board are the main items you will need to learn to kitesurf. They come in different sizes and shapes, and you must choose one suitable for your skill level and the weather conditions. 
Bar
The control bar is the device used to control the kite. It connects to the kite with lines and allows you to steer the kite and adjust the power.
Harness
The harness connects you to the kite. It goes around your waist and provides support and control.
Wetsuit
You will generally need a wetsuit to keep you warm and protect you from the water. The type of wetsuit you need will depend on the water temperature and the season.
Safety Equipment
You will also need safety equipment such as a helmet and impact vest to protect yourself from injury.
Before getting started with kitesurfing, it's essential to take lessons from a qualified instructor to learn the basics of kite control, safety, and technique. Kitesurfing can be a dangerous sport if not practised safely, so it's essential to learn from a professional and always follow the safety guidelines.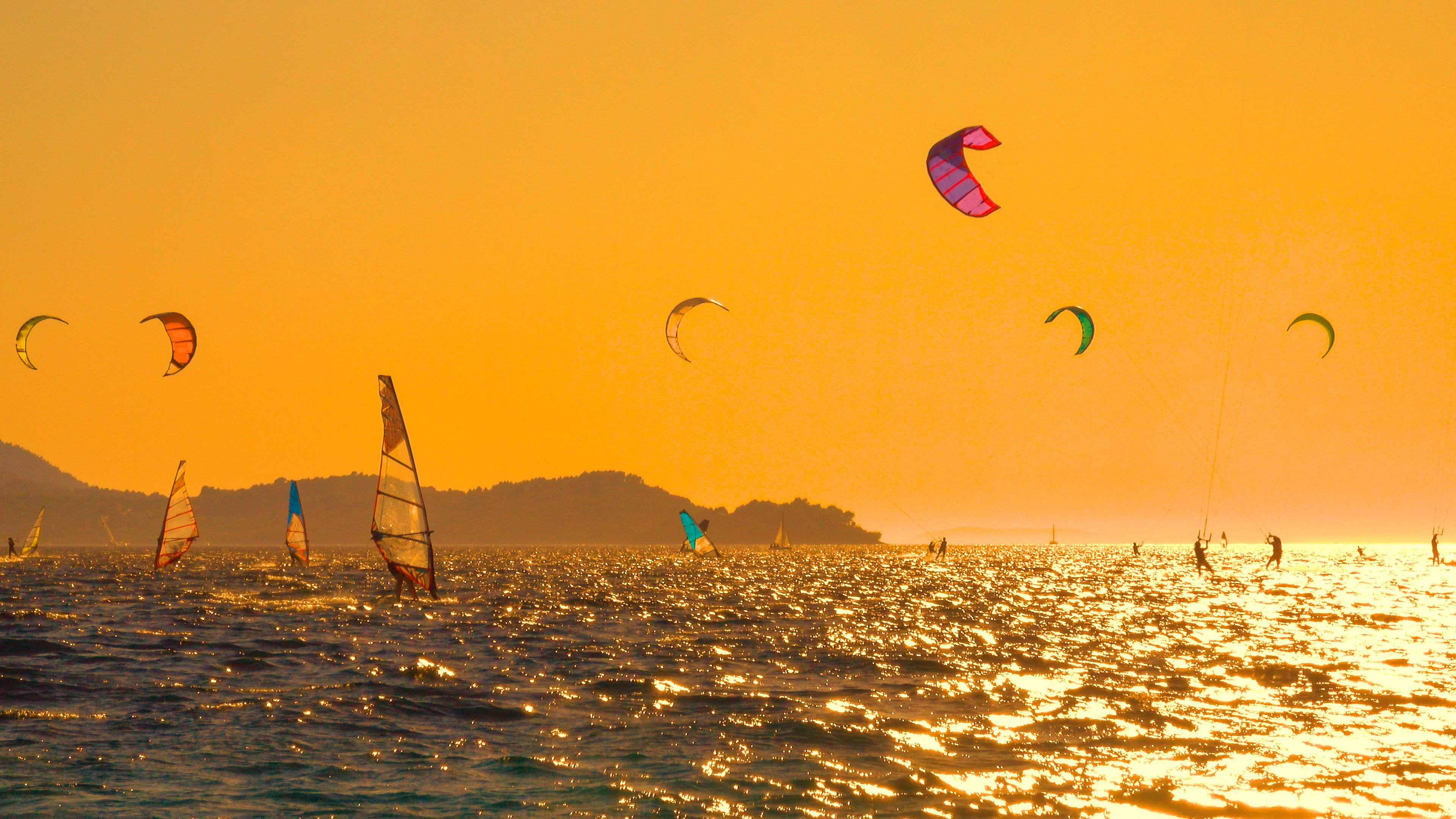 The Best Kitesurfing Lessons in Adelaide
Kitesurfing lessons are the perfect way to learn to kitesurf. Most kitesurfing lessons will include all the required equipment, so you can try the sport and work out whether you want to pursue it long-term without investing heavily in the equipment upfront. 
RIDE Kitesurfing offers South Australia's best kitesurfing lessons from Largs Bay. The team at RIDE comprises several experienced and qualified kitesurfing instructors who provide tailored lessons for adults and kids starting at 12. 
The lessons start at the beach, where you'll learn how to read the waves and use safety equipment. Following this, you'll be shown how to stand up and control the kite at your own pace. Incredibly, most students learn to stand up within around 4 kitesurfing lessons. 
What is Wing Foiling?
Wing foiling is a relatively new water sport combining aspects of windsurfing, kitesurfing, and stand-up paddleboarding (SUP). It involves using a handheld inflatable wing, like a kite or a sail, to catch the wind and propel a hydrofoil board through the water.
The wing is held in one hand and can be maneuvered to control speed and direction. The hydrofoil board is similar to a standard SUP board but has a hydrofoil attached to the bottom, which lifts the board out of the water at speed, reducing drag and allowing for faster, smoother, and more efficient riding.
Wing foiling can be done on various bodies of water, including lakes, rivers, and oceans, and can be enjoyed in various wind conditions. It can also be done in several styles, from cruising and exploring to high-speed freestyle and wave riding.
Wing foiling is a challenging sport that requires balance, coordination, and technique. However, with proper instruction and practice, it can be a rewarding and exhilarating experience for water sports enthusiasts.