Business
Maximizing Efficiency and Safety: The Benefits of Renting Lifting Equipment for Your Business
When it comes to construction and heavy lifting projects, having the right equipment is essential for ensuring both efficiency and safety. But with so many different types of lifting equipment such as Zone Group on the market, it can be overwhelming to try and figure out what your business needs. That's where renting lifting equipment comes in! By renting instead of buying, you can save money while still getting access to top-of-the-line machinery that will make your job easier and safer. In this blog post, we'll explore the various benefits of renting lifting equipment for your business, as well as how to choose the right type of equipment based on your specific needs.
What is lifting equipment?
Lifting equipment refers to any machinery or tool that is used for lifting heavy loads, materials or products. These machines are commonly used in construction, manufacturing, and other industries where heavy lifting is required.
There are many different types of lifting equipment available on the market today. Some examples include cranes, hoists, forklifts, cherry pickers and scissor lifts. Each type of machine has its own unique features and capabilities that make it ideal for specific tasks.
One important thing to keep in mind when selecting a piece of lifting equipment is the weight capacity required for your job. You'll also need to consider factors like height restrictions and maneuverability when choosing the right tool for your needs.
In addition to ensuring safety and efficiency on job sites, using lifting equipment can also help reduce physical strain on workers who would otherwise be required to lift heavy objects by hand. By renting rather than purchasing these machines outright, businesses can save money while still getting access to high-quality tools that will get the job done right every time.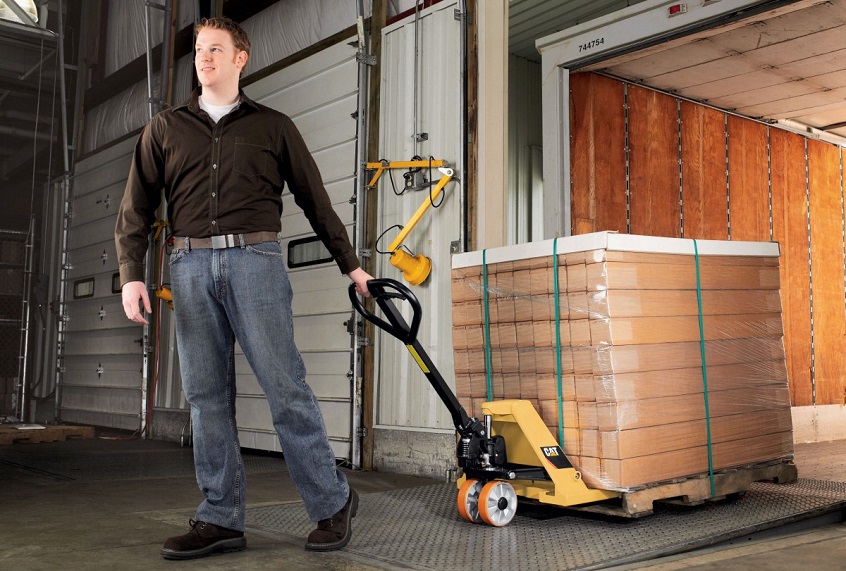 Types of lifting equipment
There are numerous types of lifting equipment available in the market that businesses can rent for their specific needs. Each type has its own unique set of features and advantages, making it important to choose the right one for your business.
One common type is the crane, which is used to lift and move heavy loads vertically or horizontally using cables or hydraulic systems. They come in various sizes depending on the weight capacity required and can be used for construction, transportation, or even maintenance purposes.
Another popular option is a hoist, which functions similarly to a crane but on a smaller scale. It is ideal for lifting lighter loads such as machinery parts or tools within a confined space like warehouses.
Forklifts are also widely used in industries such as warehousing and logistics. These machines have forks attached at the front that can lift and transport pallets of goods around factories or storage facilities.
Scissor lifts are another type commonly rented by businesses needing vertical access to elevated workspaces like ceilings or high shelves. They operate through an electric motor system that extends height-adjustable platforms upwards so workers can conveniently reach elevated areas with ease.
Choosing the right type of lifting equipment depends entirely on your business's unique requirements – whether it's maneuverability within tight spaces ideal for hoists; heavy-duty load-bearing capabilities needed by cranes; multi-purpose functionality offered by fork-lifts; or vertical accessibility provided by scissor lifts – there's something suitable out there!
How to choose the right lifting equipment for your business
Choosing the right lifting equipment for your business can be a daunting task, but it's essential to ensure not only efficiency but also safety in the workplace. The first step is to assess what type of lifting you will be doing and the weight capacity required.
Consider factors such as height clearance, working conditions, and space limitations when selecting lifting equipment. It's crucial to choose equipment that suits your needs while also adhering to industry standards and regulations.
Another aspect to consider is whether you need specialized attachments or accessories for your lifting equipment. Some lifts may require additional features such as adjustable forks or clamps for specific loads.
When deciding on rental options, consider how long you'll need the lift for and if renting or buying makes more sense financially. Look at leasing agreements closely with an eye towards hidden fees or maintenance requirements.
Finding the right fit comes down to understanding precisely what kind of work needs completing and matching it up with appropriate machinery – always taking into account safety protocols!
Benefits of renting lifting equipment
Renting lifting equipment can be a cost-effective solution for businesses looking to maximize their efficiency and safety. By renting instead of purchasing, companies can avoid the high upfront costs associated with buying new equipment while still having access to reliable machinery that meets their specific needs.
One of the key benefits of renting lifting equipment is flexibility. Businesses may not always need certain types of machinery on a regular basis, making it more practical and economical to rent when needed rather than invest in expensive equipment that will sit idle for long periods.
Another benefit is the ability to try out different models before committing to a purchase. Renting allows businesses to test equipment under real-world conditions and determine which models are best suited for their operations without being locked into an investment they may later regret.
Renting also eliminates maintenance costs, as rental companies typically handle all repairs and upkeep on rented machinery. This means businesses can focus on using the equipment rather than worrying about its maintenance or repair needs.
Renting lifting equipment can improve safety by ensuring that workers have access to well-maintained, up-to-date machinery designed specifically for their tasks. Rental companies have strict maintenance schedules in place, ensuring rented machines are always safe and ready for use.
Renting lifting equipment offers numerous advantages over purchasing outright. From increased flexibility and choice to improved safety standards and reduced maintenance costs, there's no doubt that many businesses stand to benefit from this approach.
Conclusion
To sum it up, renting lifting equipment for your business can bring a lot of benefits and advantages. It not only maximizes efficiency but also ensures safety in the workplace. By choosing the right type of lifting equipment, you can increase productivity while reducing potential risks and costs.
Remember that selecting the appropriate machinery depends on various factors such as load capacity, height reach, maneuverability, and availability of space – among others. Consulting with an expert provider can help you identify which tool is best suited to your specific needs.
In addition to this, always ensure that the rented equipment is properly maintained and used by trained personnel. Your rental supplier should provide you with support throughout the process so that everything runs smoothly without any complications or setbacks.
With all these considerations in mind, renting lifting equipment will undoubtedly contribute to taking your business operations to new heights!
articallength
articallength
articallength
articallength
articallength
articallength
articallength
articallength
articallength
articallength
articallength
articallength
articallength
articallength
articallength
articallength
articallength
articallength
articallength
articallength
articallength
articallength
articallength
articallength
articallength
articallength
articallength
articallength
articallength
articallength
articallength
articallength
articallength
articallength
articallength
articallength
articallength
articallength
articallength
articallength
articallength
articallength
articallength
articallength
articallength
articallength
articallength
articallength
articallength
articallength
articallength
articallength
articallength
articallength
articallength
articallength
articallength
articallength
articallength
articallength
articallength
articallength
articallength
articallength
articallength
articallength
articallength
articallength
articallength
articallength
articallength
articallength
articallength
articallength
articallength
articallength
articallength
articallength
articallength
articallength
articallength
articallength
articallength
articallength
articallength
articallength
articallength
articallength
articallength
articallength
articallength
articallength
articallength
articallength
articallength
articallength
articallength
articallength
articallength
articallength
articallength
articallength
articallength
articallength
articallength
articallength
articallength
articallength
articallength
articallength
articallength
articallength
articallength
articallength
articallength
articallength
articallength
articallength
articallength
articallength
articallength
articallength
articallength
articallength
articallength
articallength
articallength
articallength
articallength
articallength
articallength
articallength
articallength
articallength
articallength
articallength
articallength
articallength
articallength
articallength
articallength
articallength
articallength
articallength
articallength
articallength
articallength
articallength
articallength
articallength
articallength
articallength
articallength
articallength
articallength
articallength
articallength
articallength
articallength
articallength
articallength
articallength
articallength
articallength
articallength
articallength
articallength
articallength
articallength
articallength
articallength
articallength
articallength
articallength
articallength
articallength
articallength
articallength
articallength
articallength
articallength
articallength
articallength
articallength
articallength
articallength
articallength
articallength
articallength
articallength
articallength
articallength
articallength
articallength
articallength
articallength
articallength
articallength
articallength
articallength
articallength
articallength
articallength
articallength
articallength
articallength
articallength
articallength
articallength
articallength
articallength
articallength
articallength
articallength
articallength
articallength
articallength
articallength
articallength
articallength
articallength
articallength
articallength
articallength
articallength
articallength
articallength
articallength
articallength
articallength
articallength
articallength
articallength
articallength
articallength
articallength
articallength
articallength
articallength
articallength
articallength
articallength
articallength
articallength
articallength
articallength
articallength
articallength
articallength
articallength
articallength
articallength
articallength
articallength
articallength
articallength
articallength
articallength
articallength
articallength
articallength
articallength
articallength
articallength
articallength
articallength
articallength
articallength
articallength
articallength
articallength
articallength
articallength
articallength
articallength
articallength
articallength
articallength
articallength
articallength
articallength
articallength
articallength
articallength
articallength
articallength
articallength
articallength
articallength
articallength
articallength
articallength
articallength
articallength
articallength
articallength
articallength
articallength
articallength
articallength
articallength
articallength
articallength
articallength
articallength
articallength
articallength
articallength
articallength
articallength
articallength
articallength
articallength
articallength
articallength
articallength
articallength
articallength
articallength
articallength
articallength
articallength
articallength
articallength
articallength
articallength
articallength
articallength
articallength
articallength
articallength
articallength
articallength
articallength
articallength
articallength
articallength
articallength
articallength
articallength
articallength
articallength
articallength
articallength
articallength
articallength
articallength
articallength
articallength
articallength
articallength
articallength
articallength
articallength
articallength
articallength
articallength
articallength
articallength
articallength
articallength
articallength
articallength
articallength
articallength
articallength
articallength
articallength
articallength
articallength
articallength
articallength
articallength
articallength
articallength
articallength
articallength
articallength
articallength
articallength
articallength
articallength
articallength
articallength
articallength
articallength
articallength
articallength
articallength
articallength
articallength
articallength
articallength
articallength
articallength
articallength
articallength
articallength
articallength
articallength
articallength
articallength
articallength
articallength
articallength
articallength
articallength
articallength
articallength
articallength
articallength
articallength
articallength
articallength
articallength
articallength
articallength
articallength
articallength
articallength
articallength
articallength
articallength
articallength
articallength
articallength
articallength
articallength
articallength
articallength
articallength
articallength
articallength
articallength
articallength
articallength
articallength
articallength
articallength
articallength
articallength
articallength
articallength
articallength
articallength
articallength
articallength
articallength
articallength
articallength
articallength
articallength
articallength
articallength
articallength
articallength
articallength
articallength
articallength
articallength
articallength
articallength
articallength
articallength
articallength
articallength
articallength
articallength
articallength
articallength
articallength
articallength
articallength
articallength
articallength
articallength
articallength
articallength
articallength
articallength
articallength
articallength
articallength
articallength
articallength
articallength
articallength
articallength
articallength
articallength
articallength
articallength
articallength
articallength
articallength
articallength
articallength
articallength
articallength
articallength
articallength
articallength
articallength
articallength
articallength
articallength
articallength
articallength
articallength
articallength
articallength
articallength
articallength
articallength
articallength
articallength
articallength
articallength
articallength
articallength
articallength
articallength
articallength
articallength
articallength
articallength
articallength
articallength
articallength
articallength
articallength
articallength
articallength
articallength
articallength
articallength
articallength
articallength
articallength
articallength
articallength
articallength
articallength
articallength
articallength
articallength
articallength
articallength
articallength
articallength
articallength
articallength
articallength
articallength
articallength
articallength
articallength
articallength
articallength
articallength
articallength
articallength
articallength
articallength
articallength
articallength
articallength
articallength
articallength
articallength
articallength
articallength
articallength
articallength
articallength
articallength
articallength
articallength
articallength
articallength
articallength
articallength
articallength
articallength
articallength
articallength
articallength
articallength
articallength
articallength
articallength
articallength
articallength
articallength
articallength
articallength
articallength
articallength
articallength
articallength
articallength
articallength
articallength
articallength
articallength
articallength
articallength
articallength
articallength
articallength
articallength
articallength
articallength
articallength
articallength
articallength
articallength
articallength
articallength
articallength
articallength
articallength
articallength
articallength
articallength
articallength
articallength
articallength
articallength
articallength
articallength
articallength
articallength
articallength
articallength
articallength
articallength
articallength
articallength
articallength
articallength
articallength
articallength
articallength
articallength
articallength
articallength
articallength
articallength
articallength
articallength
articallength
articallength
articallength
articallength
articallength
articallength
articallength
articallength
articallength
articallength
articallength
articallength
articallength
articallength
articallength
articallength
articallength
articallength
articallength
articallength
articallength
articallength
articallength
articallength
articallength
articallength
articallength
articallength
articallength
articallength
articallength
articallength
articallength
articallength
articallength
articallength
articallength
articallength
articallength
articallength
articallength
articallength
articallength
articallength
articallength
articallength
articallength
articallength
articallength
articallength
articallength
articallength
articallength
articallength
articallength
articallength
articallength
articallength
articallength
articallength
articallength
articallength
articallength
articallength
articallength
articallength
articallength
articallength
articallength
articallength
articallength
articallength
articallength
articallength
articallength
articallength
articallength
articallength
articallength
articallength
articallength
articallength
articallength
articallength
articallength
articallength
articallength
articallength
articallength
articallength
articallength
articallength
articallength
articallength
articallength
articallength
articallength
articallength
articallength
articallength
articallength
articallength
articallength
articallength
articallength
articallength
articallength
articallength
articallength
articallength
articallength
articallength
articallength
articallength
articallength
articallength
articallength
articallength
articallength
articallength
articallength
articallength
articallength
articallength
articallength
articallength
articallength
articallength
articallength
articallength
articallength
articallength
articallength
articallength
articallength
articallength
articallength
articallength
articallength
articallength
articallength
articallength
articallength
articallength
articallength
articallength
articallength
articallength
articallength
articallength
articallength
articallength
articallength
articallength
articallength
articallength
articallength
articallength
articallength
articallength
articallength
articallength
articallength
articallength
articallength
articallength
articallength
articallength
articallength
articallength
articallength
articallength
articallength
articallength
articallength
articallength
articallength
articallength
articallength
articallength
articallength
articallength
articallength
articallength
articallength
articallength
articallength
articallength
articallength
articallength
articallength
articallength
articallength
articallength
articallength
articallength
articallength
articallength
articallength
articallength
articallength
articallength
articallength
articallength
articallength
articallength
articallength
articallength
articallength
articallength
articallength
articallength
articallength
articallength
articallength
articallength
articallength
articallength
articallength
articallength
articallength
articallength
articallength
articallength
articallength
articallength
articallength
articallength
articallength
articallength
articallength
articallength
articallength
articallength
articallength
articallength
articallength
articallength
articallength
articallength
articallength
articallength
articallength
articallength
articallength
articallength
articallength
articallength
articallength
articallength
articallength
articallength
articallength
articallength
articallength
articallength
articallength
articallength
articallength
articallength
articallength
articallength
articallength
articallength
articallength
articallength
articallength
articallength
articallength
articallength
articallength
articallength
articallength
articallength
articallength
articallength
articallength
articallength
articallength
articallength
articallength
articallength
articallength
articallength
articallength
articallength
articallength
articallength
articallength
articallength
articallength
articallength
articallength
articallength
articallength
articallength
articallength
articallength
articallength
articallength
articallength
articallength
articallength